Highlight of the DEI data released by the NRA along with presentation of the ELEVATE program, which helps businesses bring traction to their DEI programs.
The research, conducted in collaboration between the National Restaurant Association, the National Restaurant Association Educational Foundation (NRAEF), the Multicultural Foodservice & Hospitality Alliance (MFHA), and Cornell University Nolan School of Hotel Administration, found an association between the impact of DEI strategies and foodservice workers' job satisfaction. The study also highlighted differences between a company's perceptions about its DEI effectiveness and its employees' experiences. Ultimately, the report reinforces the critical importance of effective DEI policies in driving employee engagement and retention within the restaurant industry. To support the development of effective DEI programs across the industry, MFHA created ELEVATE – A Menu for Change. The framework provides restaurant operators with proactive business strategies and plans for building a more diverse, inclusive, and engaged workforce.
The DEI research highlights the opportunity for companies to "ELEVATE" their DEI game. An important role for managers is to listen, learn, and act to improve our efforts to create an environment where ALL our associates feel a sense of belonging and purpose. Committing to and investing in these changes can increase retention of current restaurant industry employees and enhance the overall perception of working in the restaurant industry. Our mission is to open doors of opportunity for people from all backgrounds and we are eager to help do whatever it takes to ensure our industry is the gold standard for diversity, equity, and inclusion.
Time for Q&A will be included with questions submitted at registration with others to be added as time allows.
Speaker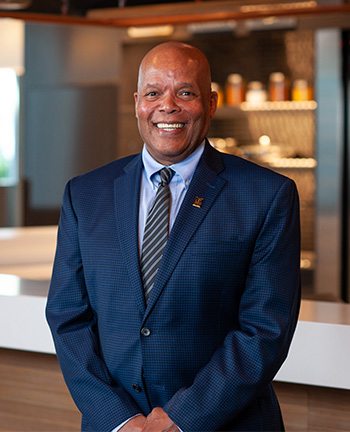 Andre Howell
Vice President of Operations, The Multicultural Foodservice & Hospitality Allianc
As MFHA's "back-of-the-house" leader, Andre Howell is responsible for managing the organization's day-to-day operations.
He wears many hats–including program development, member engagement, accountant, and human resources liaison–but his greatest joy comes from collaborating with members to help solve their business challenges and advance diversity, equity and inclusion (DEI) at their organizations.
Early in his career, Andre recognized the economic benefits of diversity and inclusion before the terms were popularized. He is a Master Diversity Trainer certified by the Antioch School of Executive Development at Temple University. His experience training executives on the impact of exclusion and the correlation to retention is one of many attributes that he brought to MFHA over a decade ago.
Before entering the non-profit realm, Andre held a variety of executive positions at Allstate Insurance Company, MetLife, Inc., and the Hartford Financial Services Group, Inc., where he established multicultural marketing initiatives that resulted in more than $30 million in new business from people of color.
Andre received his Bachelor of Science in Marketing and Economics from The King's College in New York, and a Master of Public Administration from Temple University in Philadelphia. He is a certified EEOC investigator and John Maxwell Executive Life Coach.
He is active in his community and volunteers as a mentor and motivational speaker to over 200 Black and Latino millennials. He has been recognized for his leadership in community service by The King's College, National Urban League, 100 Black Men of America, and "Who's Who" of America.